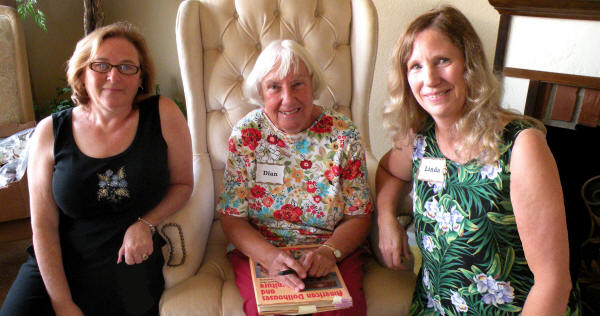 Deb Holman (left) with World-Renown Dollhouse Author Dian Zilner and Linda Gant (right)
About The Authors
Linda Gant (photo right) was first introduced to the "World of Petite Princess," when she was eight years old and has carried this collection with her throughout adulthood. Her love for Petite Princess prompted her to recreate her childhood collection and through the help of her very supportive husband, Jason, a website for Petite Princess Collectibles was created. Linda holds a Bachelor's Degree from Whittier College and a Master's Degree in Education from Chapman University (both in California). She is currently teaching Kindergarten on Catalina Island, just off the West Coast of Southern California.
"I loved playing with Petite Princess as a child! One of my fondest memories as a little girl was playing with my Petite Princess dollhouse furniture. Every day after school, my girlfriend and I would set up our exquisitely-decorated rooms and dream of what it would be like to live in this wonderful house "fit for a Princess!"
"I was fortunate enough to have a grandmother who could afford to buy me this unique and often expensive furniture, with some pieces that cost as much as 79 cents! Each Christmas, my birthday, and other special occasions, I looked forward to a visit from my grandmother and adding new pieces to my dollhouse collection. Forty-five years later, I still have her gifts. And, although she is gone, memories of her visits and the excitement of receiving another Petite Princess piece for my dollhouse still lives on. "
"My love and admiration for the Petite Princess Furniture line drove me to pursue a childhood dream of adding to my collection. With help from my webmaster husband and best friend, Jason, a website for Petite Princess Collectibles was created six years ago. This website www.petiteprincess.com helped me find my much sought-after Princess Patti Kitchen, Bathroom, and Television Set. But, my greatest joy by far, has been assisting other "Princesses" in restoring their long lost childhood collections!"
"Through my website, I have received numerous requests for more information on Petite Princess and Princess Patti pieces. With the help of fellow Princess, Deb Holman, we began to gather as much information on this wonderful dollhouse furniture line as we could. We are pleased to share with you a little 'childhood joy' and wonderment as you read about these fabulous pieces. And, for a small moment in time, you too, can become a "Princess!"

Deb Holman (photo left) has been collecting dollhouse miniatures ever since she can remember. Under the business name, "Dorette Creations", she and her mother sold their hand-crafted miniatures for many years at local craft shows and on her website. Deb is "patiently" awaiting her retirement from teaching at which time, she plans to finally complete her many unfinished projects. Deb earned her BS in Special Education and MS in Learning Disabilities from Southern Connecticut State College (now Southern Connecticut State University.) She currently teaches in an alternative Special Education High School program and in the Adult High School program, both in Hamden, Connecticut.
"As a child, my 'dollhouse' was a collection of cardboard boxes, furnished with a variety of pieces created from thread spools, cardboard, and assorted "findings." I remember scouring the bins at Woolworth's and Grant's, picking up a few inexpensive Renwal pieces here and there. "
"One day, Mom and I went to Sears… and there it was! My mother's eyes light up to this day as she describes seeing "The Palace." She recalls that the sight took her breath away as she thought, 'Now, this I like!'"
"Mom recognized quality when she saw it. The delicate and intricate Petite Princess Furniture could not compare to the plain plastic furniture we were collecting. We didn't have much money, but my mother understood the importance of "feeding one's soul." Unfortunately for Ideal, but happily for us, the furniture was discounted relatively soon after its introduction, allowing me to acquire every piece of the original Petite Princess line at a very affordable price."
"Time passed... I grew up, went to college, got a job, got married and raised a family. My Petite Princess dollhouse was always there... a visual reminder of a happy, simpler time of my life."

For over six years, Deb and Linda have been collaborating on their research, comparing notes, photographing, and tracking down the many assorted details of the Petite Princess and Princess Patti furniture lines. It wasn't until August 2009, when the two met each other for the very first time, attending a "Plastic Party" dollhouse furniture conference in Reno, Nevada, that they actually got to speak face-to-face. This long-term relationship of over 3000 miles developed the outstanding book that we have today. Hence, the idea they are "Authors from Coast to Coast!"

Our Second Edition Will Be Available Soon!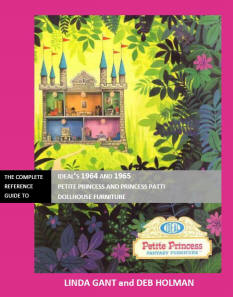 Click on Book Image to Return to The Home Page
The Complete Petite Princess Reference Guide
We're sorry... But we can not be responsible for replacing or refunding any
order lost or damaged during postal shipping, if the package is not insured.
Insurance Available On U.S. & Multiple Foreign Orders.
For more information or questions, please email info@petiteprincessbooks.com

Petite Princess Books
P.O. Box 92662
Long Beach CA 90809-2662
Questions? Give Us A Call at 562-726-1199
Available Mon-Fri 9:00 AM to 3:00 PM PST

<![if !mso]><![endif]>